MK-6240 Image Core: Pipeline to the NeuroAI Toolbox
™
NeuroAI Toolbox
™
Cerveau is constructing a multi-faceted platform to allow scientists studying neurodegenerative diseases access to data across a range of modalities:



Advanced PET imaging; Amyloid and Tau


Cross-sectional anatomic imaging; MR and CT


Associated fluid biomarker results; CSF and Plasma


Clinical and neuropsychological assessments


The NeuroAI Toolbox™ promises to reveal unexpected insights by combining knowledge from multiple sources of information simultaneously with the latest advancements in artificial intelligence.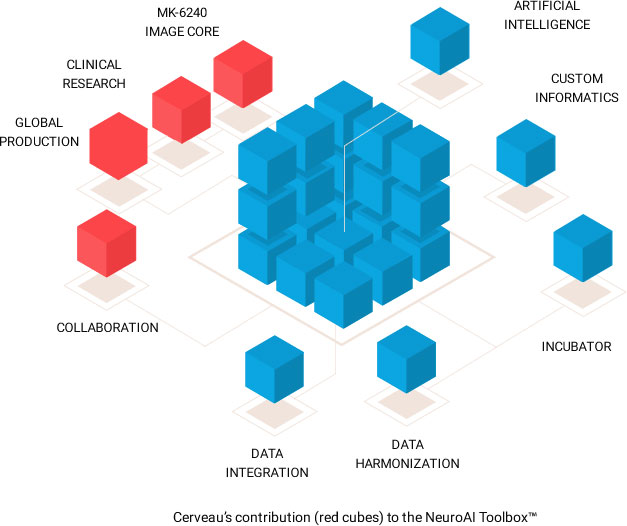 Cerveau's MK-6240 Image Core
The MK-6240 Image Core will serve as a primary data source to our expanding NeuroAI Toolbox™. In this toolbox the collection of curated image and non-image data will be combined with latest advances in machine learning and deep learning to develop and validate analytical tools. This will provide new insights into neurodegenerative disease progression. The metrics generated by these analytical tools together with information generated by our global biomarker network will revolutionize the assessment of disease progression and therapeutic effectiveness, aiding in more efficient development of breakthrough therapies.