At Cerveau, we manage all aspects of the MK-6240 product and information supply chains, to assure that our Pharma and Academic partners are able to use our exciting Tau PET imaging biomarker to the fullest advantage. Among the most important elements are:



12 Pharma partners


Extensive collaboration with renowned academic institutions and thought leaders, resulting in 43 closed and ongoing clinical trials


Unparalleled GMP production network, currently 26 strong, with growth projected to 42 in 2021


Product scaling to meet rapidly increasing demand


Unflagging Quality Assurance


Timely, transparent and rigorous communication with Regulatory Authorities and adherence to all applicable rules


Unique Image Data Management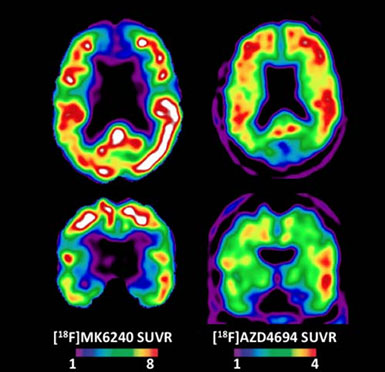 MK-6240 PET images from a cognitively impaired subject. Also shown are images using AZD4694 (aka NAV4694) is a second generation Aβ PET imaging biomarker, available from Meilieur Technologies. Note high uptake indicating high densities of both tau NFTs and Aβ plaques.
Courtesy of Prof. Pedro Rosa-Neto; McGill University
MK-6240 Image Data Management
MK-6240 Images from our Users Group and others are
warehoused in the Cerveau Image Core. Frequently, associated imaging, blood chemistry, and cognitive assessments are also archived. Great care is exercised to quality control these data, and curation is constant. All parties contributing to the Image Core, the Cerveau Users Group, have access to the pre-competitive data sets.